Ref:
Date:
Location:
Photographer:
Ref:
Date:
Location:
Photographer:

Birding in the Alentejo
The target species for most visitors to the Alentejo is Great Bustard. Birds are resident year round, but easiest to see from March to May when they are displaying. The same is true of Little Bustards, although their smaller size sometimes means they take a little longer to find.
During a visit in spring or early summer we look for breeding birds that include Lesser Kestrel, Short-toed Eagle, European Roller, Black-winged Kite, Black-bellied Sandgrouse, Calandra and Thekla Larks, Montagu's Harrier, Black-eared Wheatear and Rufous-tailed Scrub Robin. Along the roadsides are numerous White Storks on their nests, often with Spanish Sparrows as tenants. At a deep gorge in the Parque Natural do Guadiana we usually find Blue Rock Thrush, Rock Bunting and Crag Martin; Black Stork is also a possibility in this area. In the absence of any really intensive agriculture, insects and wildflowers are abundant and there is every chance of finding a Montpellier Snake, a Ladder Snake or even an Ocellated Lizard.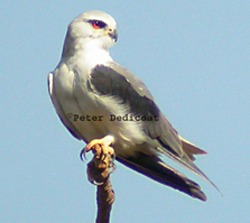 Autumn and winter are good for raptors: from November onwards, Red Kites and Common Buzzards are numerous, we also expect to see Common Kestrels, Hen Harriers and Black-winged Kites, and both Golden Eagle and Spanish Imperial Eagle are very possible. Flocks of Lapwings and Golden Plover, Skylarks, Calandra Larks, Linnets and Corn Buntings are amongst the prey items. Also in winter, Common Cranes feed in the more open areas of woodland.
On any visit to this area we usually make a stop in the attractive little town of Mértola with its 13th Century castle. In the right season, this is a sure place to see Lesser Kestrels in what may be the only surviving urban breeding colony in Portugal. We often also find Rock Bunting and Blue Rock Thrush here.
Another feature of the Baixo Alentejo are the vultures. Eurasian Griffons are sometimes numerous and both Black Vulture and Rüppell's Griffon occur from time to time.
Only a short distance from Mértola is Mina de São Domingos, site of the first breeding record in Portugal of White-rumped Swifts back in 1995. There has been further breeding in the area since then and we have seen them several times in recent summers.